Maryanna A. Boguslawska
was born November 8, 1894. At the time of her birth her parents,
Anton Boguslawski
and
Valeria Grosinska
, resided in Grzebsk, Mazowieckie, Poland. While little else is known about Anton and Valeria at this time, it is believed other children included Michael, Wladyslawa and Tadeusz. Maryanna died in New Britain, CT on April 13, 1987.
There are a number of variations on how she and
Bronislaw Grala
met. One is that he knew her from Poland and another is that they met through a mutual acquaintance in New Britain, CT. When queried about her decision to marry a man who already had a family, she'd say that she loved his children and felt sorry for them because they had no mother. From other stories told by Maryanna, her decision may also have been motivated by the fact that people were already referring to her as an 'old maid.'
They married at Sacred Heart Church in New Britain on January 28, 1919 and lived at 111 North Street where
Antonium (Tony) C. Grala
was born.
Jadwiga (Hedy) R. Grala
was born on February 3, 1921. At the time of her birth the family was living at 104 Gold Street. About 3 months later, the family migrated to Baba, Ostroleka, Mazowiecki, Poland. From the bits of conversation Frank, Jr. (Franciszek's son) overheard between the two brothers, his consensus was that the American dollar was worth a bushel of Polish zloty and that a more comfortable living could be made back in their homeland.
It seems Bronislaw and his family stayed in Baba only long enough to plan their move to Pomorze (where Bronislaw found work as a miner) and make arrangements for their youngest daughter to live with Maryanna's parents in Mlawa.
[Go to
http://www.mlawa.um.gov.pl/history.htm
for some interesting history about Mlawa.]
For the next 5-6 years, Hedy's visits with her parents were far and few between. During that time the family moved back to Baba where the family farm was split between Bronislaw and his oldest brother Josef and where
Stanislaw (Stanley) E. Grala
was born on July 11, 1923.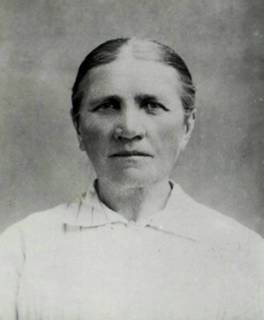 VALERIA BOGUSLAWSKI
Meanwhile, Hedy came to know and love Antoni and Valeria as her parents. When the day came that she was to leave them to rejoin her real family and begin school she was not happy. But she soon discovered she had a wonderful new house made of logs with a center fireplace
[see THE BABA HOMESTEAD].
Just outside the window to her parents bedroom there were cherry trees and a waterfall flowed nearby. Best of all, she realized she now had many brothers and sisters to play with!
It seems Maryanna was not content to stay in Poland and may have been the one to persuade Bronislaw to return to America. He came back to New Britain in April 1928 took a job with Stanley Works until money was saved to bring his family over. Back home in Baba his son,
Eugenjusz (Eugene) S. Grala
born.
Benny and Helen were the first to be reunited with their father and are listed with him in the 1934 New Britain City directory at 23 Horace Street. With the exception of Bernice, who stayed behind at the family homestead to marry Frank, the rest of his family returned to America in May 1934. They are shown in the 1935 directory as living at 44 Gold Street where
Joanna (Joan) A. Grala
was born. Bronislaw and Maryanna purchased their home at 40 Gold Street in 1937.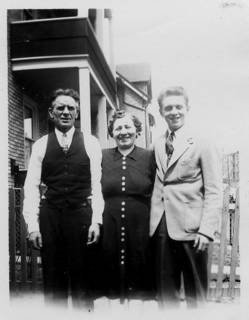 BRONISLAW 1940 and 1946 WITH MARYANNA & STANLEY
MARIANNA & MRS. PIASCZYK
MARIANNA GOES TO WASHINGTON!